Save the Date: Irish Rural Link Annual Conference and AGM 2017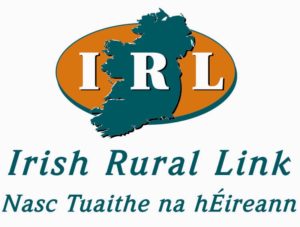 Irish Rural Link Annual Conference and AGM 2017
Micro Enterprise: A Key to Rural Employment –
Outlining pathways to Europe'
Friday 5th May
The Sheraton Hotel
Athlone
Co. Westmeath
The conference will allow participants to reflect on the many issues facing rural microenterprises and the effect of Brexit on export opportunities. It will look at how mirco enterprise and rural entrepreneurs are responding to these issues and explore supports available in order to create a pathway to the EU Single Market. More Details to Follow
Irish Rural Link in Brussels for the kick-off meeting of the MICRO project
Irish Rural Link in Brussels to launched the MICRO Project (Enhancing Competitiveness of Microenterprises in Rural Areas) in Brussels, on 21st and 22nd of November 2016. The project is co-funded by Erasmus+ Programme of the European Commission.
Click here for press release
For more information about MICRO project and IRL, contact us: [email protected] or 0906482744
---
Rural Banking – RDS Speakers Series, Daytime Seminar –
A Simply Different SME Banking System: Closing the Gap and creating a Virtuous Cycle
Book here: http://www.rds.ie/Whats-On/Event/26638
Read more: https://www.irishrurallink.ie/category/resources/public-banking/
---
National Rural Network Video Available to watch now
National Rural Network video outlines the role NRN will play in the Rural Development Programme 2014-2020
Watch the Video here
https://www.youtube.com/watch?v=1oZiWqKHjJI
---
IRISH RURAL LINK LAUNCH REPORT ON RURAL POVERTY AND SOCIAL INCLUSION
Irish Rural Link launched report "Poverty and Social Inclusion: The Case for Rural Ireland" on the 18th October to mark UN Day for the Eradication of Poverty.
The report highlights that poverty and social exclusion is not just an urban issue and is very much evident in rural areas. It can be exacerbated in a rural setting due to the lack of services, such as transport, broadband and low-paid employment.
The full report is available here poverty-and-social-inclusion-the-case-for-rural-ireland
Findings of the report were presented in Buswells Hotel, Dublin 2 where TD'S and Senators were invited to attend.
Pictured at the launch are Seamus Boland, IRL and Tara Farrell, Longford Women's Link and Board of IRL with Deputy Trevor O Clochartaigh, TD Deputy Margaret Murphy O'Mahony, TD and Deputy Danny Healy-Rae, TD
---

Erasmus + & Irish Rural Link will run a two year programme which will deliver innovative & supportive education for entrepreneur & craft leaders in rural areas. Micro and crafted type enterprises, as well as other target groups will benefit from this programme in terms of increased access to improved support services that will empower them to cope better with the challenges of economic crisis, explore new opportunities of growth and participate fully to connect to the EU Single Market. Ireland has a small, open economy that's heavily reliant on exports so this is a perfect opportunity for your business to get involved.
Irish Rural Link will team up with similar companies such as
National University of Ireland Maynooth
Brainstorming LTD Business Consultants – Athens
Community Development Institute – Macedonia
Institute De Haute Formation Aux Politiques Communities ASBL –Belgium
IDP SAS DI GIANCARLO COSTANTIONO –Italy
Internet Web Solutions SL – Spain
If you are a small existing business from rural Ireland & interested in exporting your product?
We would like to hear from you.
For further details please contact:
Mary or Maria @ Irish Rural Link on 090 6482744 for further details.
---
New Opportunities for Female Entrepreneurs in Rural Areas
Minister for Agriculture, Food and Marine, Micheal Creed launches a second year of ACORNS, a CEDRA funded initiative for rural based female entrepreneurs. To learn more follow link https://www.agriculture.gov.ie/press/pressreleases/2016/august/title,99176,en.html
---
IRL Attend Launch of Town and Village Renewal Scheme
IRL attended the launch of the new Town and Village Renewal Scheme on 9th August 2016. The scheme was launched by Minister Humphreys with €10m available to Local Authorities to support the regeneration of rural towns and villages. More information about the scheme is available on http://www.merrionstreet.ie/en/Gallery/Images/Minister_Humphreys_launches_Town_and_Village_Renewal_Scheme_.html
---
Planning Day for Trainers of BenefIT 4
IRL Recent Planning Day for Trainers of BenefIT 4 Computer Training Programme
---
Benefit IIII Basic Computer Training
Irish Rural Link's basic computer training course is aimed at people who have never used a computer before with the main objective to get more people online and being able to send an email, Skype with friends and family around the world. To date, IRL have delivered the basic computer training to over 4,500 participants around the country for all different age groups. Irish Rural Link aims to deliver the Benefit 4 Computer Training to the most isolated areas including the islands. Classes are free, and ran over four weeks one morning per week for two hours. Classes are aimed at people working in the rural community, farmers, senior citizens, unemployed or part-time employed people.
New classes commencing in September 2016. To book a class near you or to read more click on Benefit IIII Basic Computer Training Information
---
IRL and NRN Meet Minister Humphreys at recent Launch of Leader Development Programme 2014-2020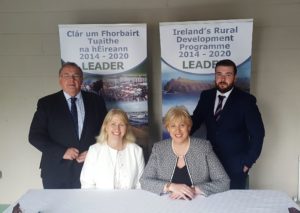 IRL's Seamus Boland and NRN's James Claffey and Dr. Maura Farrell Meeting Minister Humphreys at recent Launch of Leader Development Programme 2014-2020 on Friday 8th July 2016.
---
Update: Console
The recent revelations about the governance of Console have come as another shock to the Charity and Community & Voluntary Sector and many of you may be concerned about the negative impact these shocking abuses will have on both your individual organisation and the wider sector. It is extremely disturbing, especially after all the good work done in recent years on good governance and committing to openness and transparency.
Read more here Update Console
---
Irish Rural Link appoints Louise Lennon as Policy and Communications Officer.
Irish Rural Link – the national network representing the interest of rural communities is
pleased to announce the appointment of Louise Lennon, who has taken over as their Policy and Communications Officer from James Claffey now Project Manager of National Rural Network.
Louise joins Irish Rural Link from the Simon Communities of Ireland where she worked as Policy Assistant within the Policy and Communications team for the past four years. During her time with the Simon Communities, Louise has developed various policy submissions to relevant Government Departments and produced research papers on behalf of Simon Communities in Ireland, including 'Left Out In the Cold: A Review of Rural Homelessness in Ireland' as well as 'Locked out of the Market' reports which looked at the gap between Rent Supplement/Housing Assistance Payment limits and market rents in 11 locations, both urban and rural, across the country. Louise is also experienced in briefing members of the media and liaising with public representatives and their offices.
Louise Lennon said "I am delighted to be appointed Policy and Communications Officer for Irish Rural Link and look forward to continuing the work of Irish Rural Link in representing the interest of rural communities.
---
Inspiration Event: Erasmus+ for Rural Youth Work
Date: 22 June 2016
Time: 11:00 – 15:00
Location: Eiscir Rida Community Centre, Tullamore, Co. Offaly
Join us for a thematic inspiration morning for organisations and youth workers supporting young people from rural areas to engage in International Activities.
In partnership with Youth Work Ireland – Midlands, we hope that this event will provide answers to the questions you have about Erasmus+ Youth in Action activities and that you discover some projects that you and your youth group can get involved in with funding available from Erasmus +.
We have a packed morning planned with inputs from youth organisations working in rural areas sharing their experiences of working with this target group and engaging with Erasmus+ Youth in Action!
Participation is free, with lunch provided
Registration: https://www.eventbrite.ie/e/erasmus-youth-in-action-inspiration-day-for-rural-youth-workers-tickets-25736197660
________________________________________________
IRL Annual Conference 2016 – Presentations
'Community Wetlands, a threat or an opportunity for Rural Communities'
Friday 6th May, 2016, The Grand Hotel, Moate, Co. Westmeath. for gallery go to Events page
Tadhg O'Mahony EPA, Community Wetlands, A Threat or an Opportunity
Chris Uys Community Wetlands – A community Perspective PPT
Management, Planning, Conservation & Restoration of Natura2000 Sites by Suzanne Nally NPWS, DAHG
Moate Presentation-Wetlands Oral Histories 6th May 2016
___________________________
NEW CONSORTIUM APPOINTED TO RUN
IRELAND'S NATIONAL RURAL NETWORK (NRN). The Department of Agriculture announced the appointment of a new consortium led by Irish Rural Link, supported by The Wheel, NUI Galway and Philip Farrelly & Co. to run Ireland's National Rural Network this week
---
---
---